We recommend the installed version of Zoom's Desktop Application. Please do this in advance of the meeting, instructions can be found in the meeting link in the body of the calendar or e-mail invite.
You will be redirected to Zoom's website in your web browser and the application should automatically download if you do not already have it downloaded. Click download & run Zoom if it does not automatically download.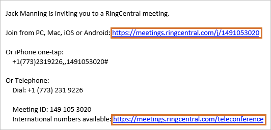 Once the download is complete, click on the box on the lower left-hand corner of your browser. This should start the app's installation.
Click Run to complete the installation of Zoom.
Once the download is complete you will enter the Zoom meeting. NOTE:

If you do not enter the meeting automatically, click the meeting link from the invite.

You will see a dialog window presenting you options in joining the meeting.
You can either click Join by Computer tab, and then click Join Audio by Computer or click the Join by Phone tab to dial in using the telephone number and meeting ID that were provided in the body of the calendar invite.